RESODURA includes a wide range of different collagen solutions for dura substitution and dura regeneration in the field of neurosurgery and spinal surgery.
The RESODURA family allows us to address a wide spectrum and cover all current techniques in the field of dura substitution. The transparent foils are highly customisable while the different membranes offer optimal conditions for suturing. The sponge constitutes an onlay implant with a top layer of collagen film, rendering it leak resistant.
Transparent Collagen Biomatrix for Dura Regeneration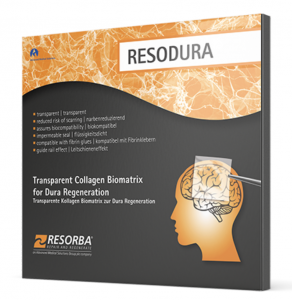 PROPERTIES:
RESODURA is a biological, absorbable dura substitute indicated for use in neurosurgery that is specifically transparent for optimal visual inspection of the underlying tissue.
RESODURA®  2,5 X 2,5cm     DU2525
RESODURA®  2,5 X 10cm     DU0505
RESODURA®  5 X 5cm            DU2510
RESODURA®  5 X 10cm         DU0510
RESODURA®  7,5 X 7,5cm    DU7575
RESODURA®  10 X 10cm      DU1010