Every membrane in the field of GTR/GBR is subject to high demands. These include above all biocompatibility, integration into the surrounding tissue, interoperative handling, as well as the duration of the barrier function.
All three membrane systems have the prerequisites to successfully fulfil the requirements of the user.
PARASORB RESODONT® Forte:
consists of equine, native collagen fibrils in higher concentrations
very high tear resistance
considerably extended durability, without chemical additives
easy to cut to size when dry or wet
Product features
usable on both sides
no fixation required
quick, easy trimming and application
rapid integration into the surrounding tissue
fully absorbable – no secondary surgical procedure required to remove the membrane
special microstructure
PARASORB RESODONT® Flex is a very tear-resistant, yet flexible, absorbable barrier membrane of porcine collagen origin. Its excellent handling property makes it easy to adapt to the bony defect.
PARASORB RESODONT® Flex does not stick to surgical instruments.
PARASORB RESODONT® Flex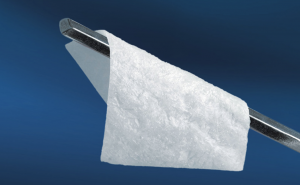 Product features
Absorbable in 3-4 months
High tear strength
Biocompatible
Easy adaptation to the defect
Does not stick to instruments